Obituary for Richard W. Collins
Richard Wayne Collins, age 84, long-time resident of Ponca City, Oklahoma passed away peacefully September 13th, 2018, in Ponca City.
A memorial ceremony will be held at 1:00 PM on Wednesday, September 19th at First United Methodist Church at 200 S 6th St, with Pastor Mike Smith officiating. Services are under the direction of Trout Funeral Home & Crematory.
Richard was born on July 27th, 1934 to Lee Everette Collins and Iva Mae (McCaskill) Collins in Oklahoma City and worked as a Patent Attorney in the petroleum industry. He grew up in Muskogee, Oklahoma with a hard-working father he respected, and a nurturing mother he adored. He shared his childhood home with a big sister he feared and admired, and a little sister he mentored and protected. At a young age, his sisters were shocked to find that other people thought he was brilliant, but they have since come around, and remained close to him his entire life. And he was brilliant, hovering at the top of his class through high school in Muskogee, and a Chemical Engineering degree from Oklahoma State University, and a law degree in Washington D.C. from George Washington University. In D.C. his best friend's wife introduced Richard to her sister Grace, who would become his wife in 1963 and the love of his life for 55 years. Together they started a family, and Richard's career in the petroleum industry began. He worked for several oil companies in Oklahoma City, Memphis, TN, and Des Moines, IA, and was continually recruited by competing companies. As his family grew, Richard debated whether to live to work, in a more intensive, prestigious job, or to work to live at an intellectually stimulating job that allowed him more free time to spend with his family and friends. He chose the latter, took a position as a Patent Attorney with Conoco, and moved his family to Ponca City, OK in 1974, where he did a lot of work, but a lot more living. In Ponca City, he had time to return to his passion for piloting Cessnas with a group of like-minded hobbyists and professionals at the local airport. He flew his young family to Dallas to visit family, and to Colorado for camping trips, and in circles around Ponca City where he could point out his house to the kids, but he also loved to wake up and go solo a flight just to escape to the sky for a little while. He was a regular on the local tennis courts for forty years where he met the guys who would be buddies for the rest of his life. He thrived on competition, on the courts with a few pals, or playing chess with his best friend, or playing bridge with ten local power-couples, or flipping a coin to see who pays for coffee at the donut shop where he and his buddies gathered each morning to ponder life's mysteries and argue the finer points of current events. He played to win, in every endeavor, and more often than not, he did win. If he was losing, he never stopped fighting, and had some remarkable comeback victories along the way. He survived quadruple bypass surgery in 1996, and was back on the tennis court in just a few months. He came out of retirement, when he didn't really need the income, to take a job delivering donated blood to and from hospitals around Oklahoma. When asked why in the world he would want to work, when he didn't have to, he said, "Because if someone hadn't done this for me, I wouldn't be alive, and I have a responsibility to pass on the favor." He always put other people's safety and comfort ahead of his own, while still making time for his passions. He coached every little league sport his kids ever tried, impacting the lives of other people's kids. Ponca City has benefited from his responsible, competent commitment to community, and because of this, he drew the smartest, most competitive, funniest, and most eccentric people in town as his friends. The good people of Ponca City respected and loved him, and have surrounded his family with love and support as he escapes to the sky one last time. They have relayed countless stories of Richard's kindness and humor through the years. He wasn't one to roll with laughter, but they all describe his sly grin and sparkling eyes when he seemed to be having a little more fun than everybody else after a stinging or sarcastic comment.
Preceding in death were his father Everette in 1980, his mother Iva in 1986, his niece Melissa Doll in 2004­, his nephew S. Lee Jackson in 2012, his best friend and brother-in-law Bill Jackson in 2011, and great friends too numerous to mention.
Survivors include his wife Grace, his sister and brother-in-law Marlene and Odell Walker of Stillwater and their four sons, his sister Malinda Collins and nephew Darren Davis and his wife Wendy of Tulsa, his daughter Kaye and her husband Aldon Sanders of San Jose, CA, his son Glen of Ponca City, and his son Scott and his wife Sheri of Hearne, TX, and his beloved grandson Brett Collins of College Station, TX.
In lieu of flowers, the family requests friends and family consider donating to Parkinson's research at michaeljfox.org and to take time to donate blood at your next opportunity. Take time to reach out to someone you know who faces the challenges of physical or mental disability, even the ones who won't ask for help.
Richard's passing has made Ponca City a little less intelligent, competitive, funny, and eccentric, but this community will continue to be a fantastic place to raise a family, and have a fun life as long as people like Dick keep popping up.
To send flowers or a remembrance gift to the family of Richard W. Collins, please visit our Tribute Store.
Previous Events
Memorial Service
First United Methodist Church
200 S 6th St
Ponca City, OK 74601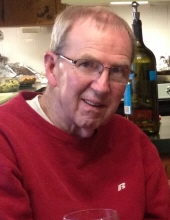 Thank you for sharing your
memory of Richard
Provide comfort by sending fresh
flowers from our local florist.
No thanks, please don't show me this again.